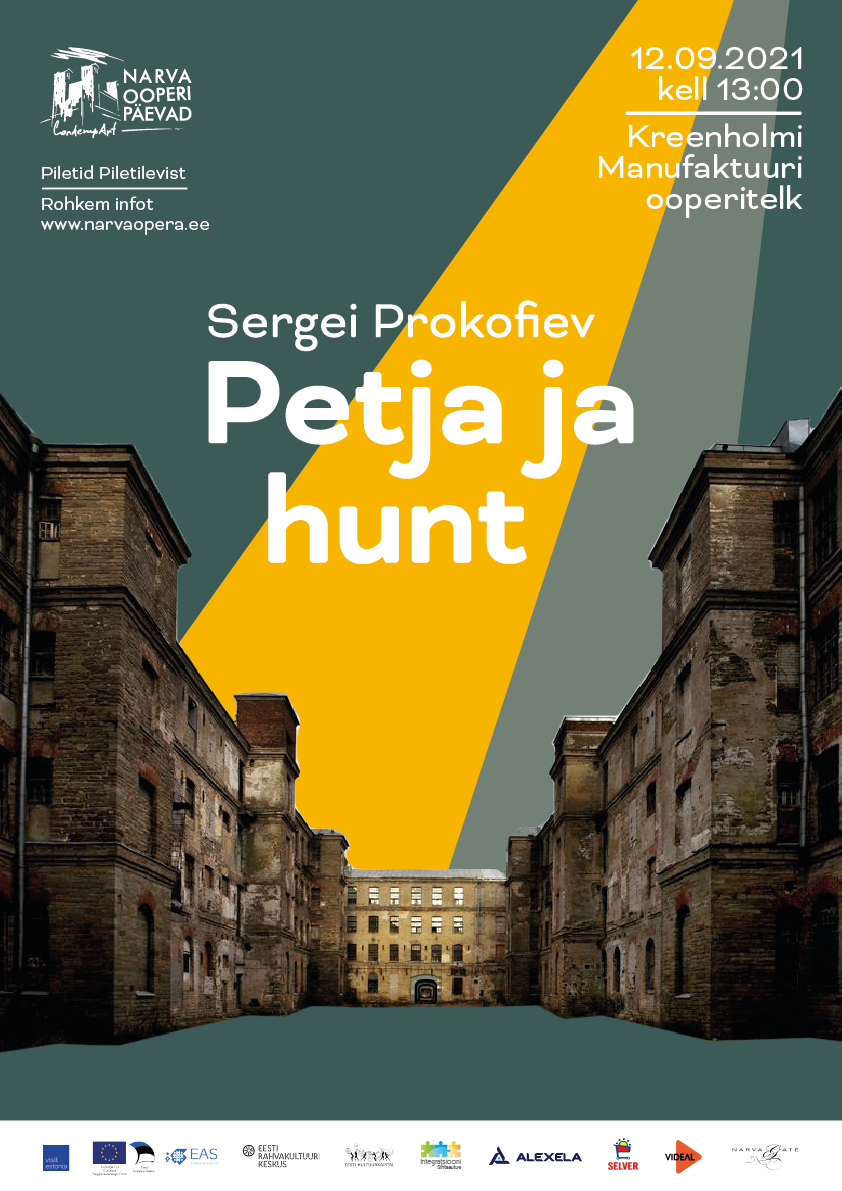 Musical fairy tale "Petja ja hunt"
Su 12 September 2021 at 2 50 p.m. Krenholm Opera House 
"Peter and the Wolf" Sergi Prokofiev 130
A "symphonic fairy tale for children", is a musical composition written by Sergei Prokofiev
The narrator tells a children's story, while the orchestra illustrates it. It is Prokofiev's most frequently performed work and one of the most frequently performed works in the entire classical repertoire.
Idea Julia Savitskaja
Directed by Narva Linna Sümfooniaorkester
Narrator Irina Svensson
Young actors from the Kohtla-Järve Performing Arts module will participate in all sections.
Bird – flute
Duck – oboe
Cat – clarinet
Grandfather – bassoon
Wolf – french horns
Hunters –  timpani and bass drum
Peter – string instruments
Peter, a Young Soviet Pioneer, lives at his grandfather's home in a forest clearing. One day, Peter goes out into the clearing, leaving the garden gate open, and the duck that lives in the yard takes the opportunity to go swimming in a pond nearby. The duck and the bird argue on whether a proper bird should be able to swim or fly. Peter's pet cat stalks them quietly, and the bird—warned by Peter—flies to safety in a tall tree while the duck swims to safety in the middle of the pond.  Before long Peter's grandfather scolds him for being outside in the meadow alone because of the possibility that a wolf could come out of the forest and attack him, and when Peter shows defiance believing he has nothing to fear from wolves, his grandfather takes him back into the house and locks the gate. Soon afterwards a ferocious wolf does indeed come out of the forest. The cat quickly climbs into the tree with the bird, but the duck, who has jumped out of the pond, is chased, overtaken, and swallowed by the wolf.  Seeing all of this from inside, Peter fetches a rope and climbs over the garden wall into the tree. He asks the bird to fly around the wolf's head to distract him, while he lowers a noose and catches the wolf by his tail. The wolf struggles to get free, but Peter ties the rope to the tree and the noose only gets tighter.  Some hunters, who have been tracking the wolf, come out of the forest with their guns readied, but Peter gets them to instead help him take the wolf to a zoo in a victory parade (the piece was first performed for an audience of Young Pioneers during May Day celebrations) that includes himself, the bird, the hunters leading the wolf, the cat, and lastly his grumbling Grandfather still disappointed that Peter ignored his warnings.  At the end, the narrator states those listening carefully could hear the duck still quacking inside the wolf's belly, due to being swallowed alive.
Price information
Full ticket 8 €
Pensioner, student 6 €
VIP ticket 9 € (best place selected in the first eleventh row)Duration 50 min