ContempArt
Excursion at Kreenholm
VI Narva Opera Festival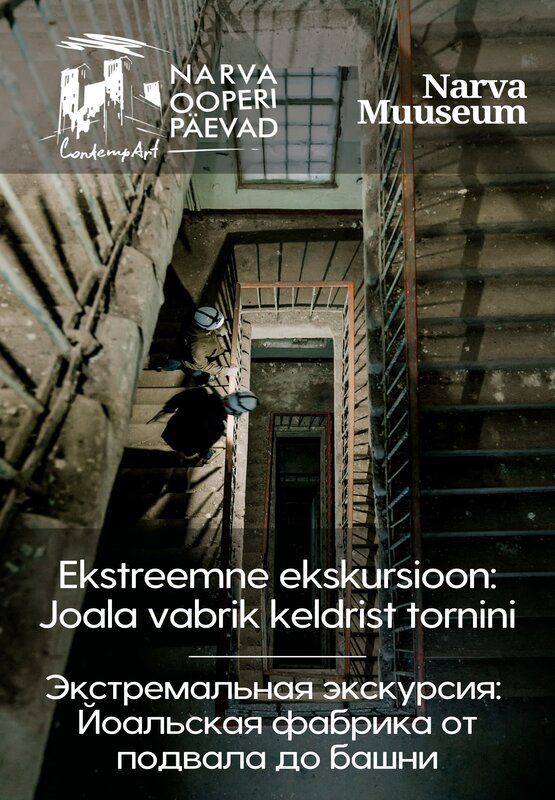 Extreme excursion: Joala Factory
The history of the Kreenholm textile factory is an ideal educational material for learning about the global textile industry of the 19th and 20th centuries: dizzying economic growth and sharp declines, an unprecedentedly large production volume for Estonia and fateful cooperation agreements, the construction of an entire town around the factory and the incredible stories of the workers who ended up here by the will of fate.
We will talk about all of this on our new tour, which takes place in the Joala factory – a red brick building with breathtaking views from the tower. Closed as one of the last ones in the whole Kreenholm complex, the atmosphere of the company has been preserved in the Joala factory premises in the best possible way: the noise of the spinning machines is stored in the walls, while the stairs still remember hundreds of pairs of feet running up and down…
Since the building has been empty for several years, there is no electricity and there are several dangerous places. Consequently, the number of participants is limited. The excursion is suitable from the age of 16, participants must undergo a safety briefing and it is mandatory to wear safety helmets during the excursion.
Facilities:
• Free parking in the parking lot next to the gate of Kreenholm Manufaktuur.
• NB! There are no toilets on the territory of Kreenholm
Meeting spot: At the old gate of Kreenholm, opposite of Joala 32.
Ticket price: 23 €
Date: 2.09.2022 – 4.30 PM
The excursion is conducted in Estonian and Russian.
NB! Tickets only available on pre-sale. Piletilevi.ee
Persons under the age of 16 and people under the influence of alcohol are not allowed on the tour. The maximum number of participants in the group is 18 people.
In order to avoid injuries and for your own well-being, we strongly recommend:
• choose weather-appropriate and comfortable clothes that do not get dirty easily;
• take into account the change in temperature when moving from the basement to other floors;
• wear comfortable and closed shoes with low heels.
Guests who have a fear of closed spaces and heights, as well as those who are allergic to dust and humidity, are asked not to join.